Against Breast Cancer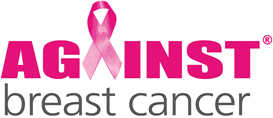 Against Breast Cancer is the personal crusade of Dr. Anthony Leathem and his wife Patricia in their quest for a future free of breast cancer.
Today, Against Breast Cancer funds pioneering research into new treatments, tools for earlier diagnosis and advice to reduce the risk of recurrence and secondary spread. Working with expert scientists we want to increase the survival rates of all breast cancer patients and ultimately, discover a vaccine against breast cancer.
Their research team relies entirely on the generosity of people like you, they receive no government funding which is why their supporters are so important to them.
We hope you can find the time to support Against Breast Cancer. Every penny counts and you will be helping To make a real difference in the fight against breast cancer.